AE-MBA

What is the AE-MBA?
AENC has partnered with GoalMakers, ACAE, GSAE, SCSAE and TNSAE to bring you the foundations of a traditional MBA curriculum in the new AE-MBA Program. Over 10 weeks, learn, understand, and apply the best practices of organizational leadership and business finances with the knowledge and resources to immediately improve your association. Join association leaders from across the southeast as this program is open to new and experienced association CEOs and Executive Directors from across the southeast.


Participating states include:

The AE-MBA will improve your management and grow your bottom line. It will teach you organizational leadership skills, help you understand the ins and outs of financials and how they affect your association (and the operations of your members), teach you to empower your entire team, help you identify your right markets and streamline ways to better serve them, and so much more!
Built for the busy professional, and keeping in mind that you are working full-time, the program is completely virtual and optimized for the modern learner. It's no secret that eLearning is the most efficient way to learn, providing an easy anywhere, anytime accessible learning experience.
By the end of this course you will have the skills, knowledge, and resources you need to be more successful so let the world know it! Upon completion of this program, you will receive the AE-MBA Certificate of Completion as a digital badge for LinkedIn & professional credentials. Along with the certificate, you will have the opportunity to gain up to 10 CAE credits between the self-paced eLearning and the live group sessions.
Who is this program for?
The AE-MBA is primarily for new and experienced CEOs and Executive Directors, however, if you are/have a 'future CEO' on your staff as well, you can invite them to participate in the program with you.
Program Dates: March 2nd, 2023 to May 11th, 2023
Live expert-led facilitations run from 9:00 AM EST to 10:00 AM EST
March 2nd - Program Kickoff & Onboarding
March 16th - Vision, Goals & Planning Process
March 30th - The Right Team & Right Customers
April 13th - An Empowered System of Management
April 27th - Demystifying the Financials
May 11th - Applying the Financials & Graduation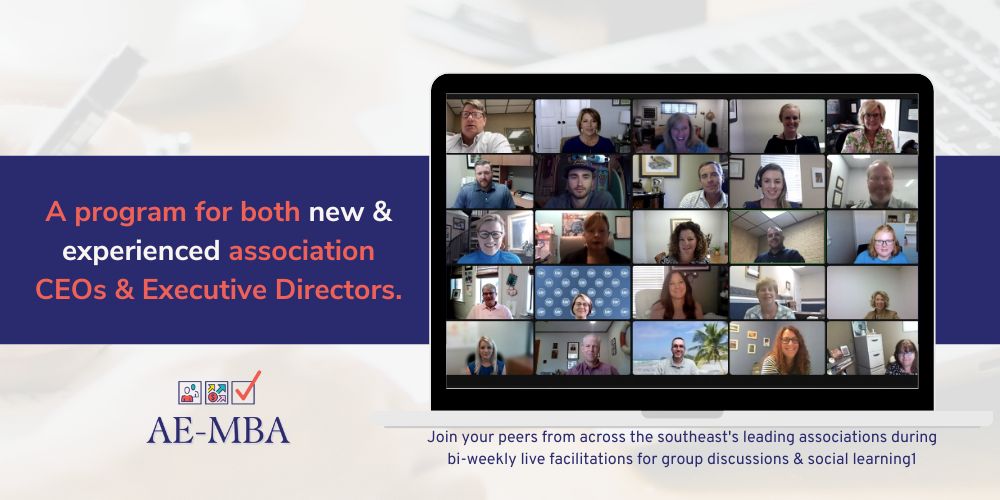 The program provided is not intended to and does not educate or train attendees in a program leading toward (i) examinations for licensing in a profession or vocation, (ii) employment at a beginning or advanced level, or (iii) a postsecondary educational credential of a Masters degree from a university.