Join us for the 42nd AENC Trade Show!
HUGE THANK YOU TO OUR SPONSORS!
Facebook LIVE Sponsor: Rocky Mount Event Center | Show Booth Services/Registration Counters: SES
PLEASE NOTE: ONCE AGAIN THERE ARE A FEW SCAM ORGANIZATIONS TRYING TO SELL "TRADE SHOW ATTENDEE LISTS" OR "DISCOUNTED HOTEL ROOMS" FOR THE EVENT. THESE ARE SCAMS AND THEY ARE LOOKING MORE AUTHENTIC THAN EVER (INCLUDING USING OUR LOGO). THEY ARE NOT PART OF AENC OR ANY WAY ENDORSED BY AENC. IF YOU HAVE ANY QUESTION ABOUT THE AUTHENTICITY OF ANY OFFER PLEASE CONTACT AN AENC STAFF PERSON.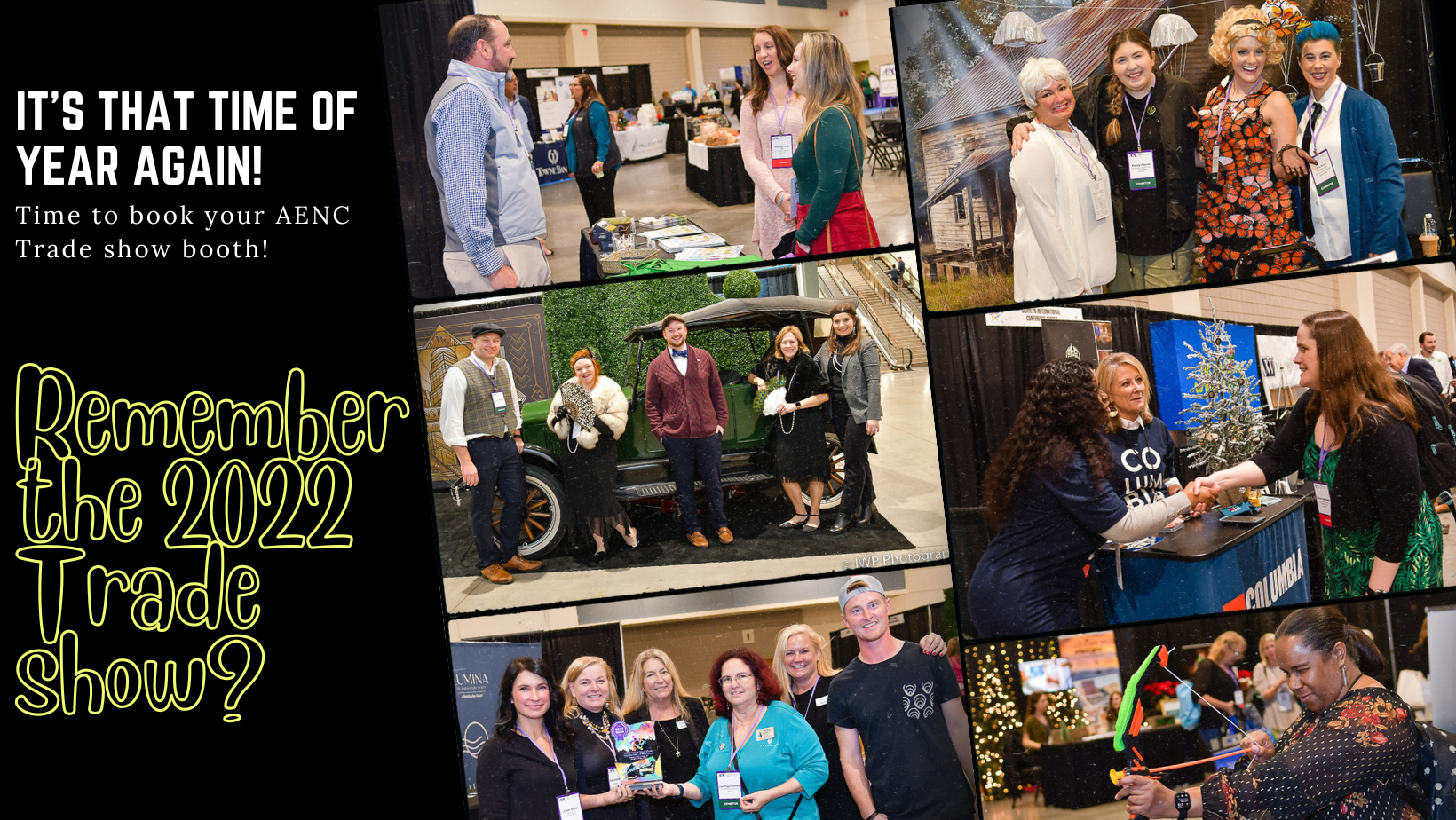 Booths will be assigned on a first come basis, list both your first and second choice options.

Add $50 for Center Court Booths: #1319, 1322, 1324, 1326, 1328, 1333, 1418, 1419, 1432, 1433, 1518, 1523, 1525, 1527, 1529, 1532
PRICE INCLUDES: one 10' x 10' booth, black pipe & drape, one 6' table with black skirt, two chairs, one wastebasket, one sign with name of exhibitor & booth number and registration for 4 booth representatives. Exhibitor Representatives must be registered and can attend all event functions. Standard Drape colors are black. Carpet is NOT included in the booth price for 2023. If you want carpet or padding, you must rent/pay for it directly with SES.
PRICE DOES NOT INCLUDE: Any items other than those listed above. Additional equipment, furnishings, lighting or decorations can be ar- ranged directly with the official Trade Show Decorator – Southern Exhibition Services. Electricity, internet, phone or water must be ordered from and payment made directly to the Raleigh Convention Center. Information is included in the exhibitor confirmation packet.
Reminder of why exhibitors love the AENC Trade Show:

- Qualified Attendees only: To be on the floor of the show you must be a show exhibitor or an attendee who is an association staff or a planner for an association, corporation, sports, military, fraternal or religious organizations or an independent. CLICK HERE TO SEE WHAT ATTENDEES SAY ABOUT THE SHOW!

- Following the show, we provide a complete contact list of attendees with profile information

- You can have up to 2 organizations in each 10'x10' booth (so you can split with another company/person if need be!) and 4 exhibitor representatives in each booth.

- FACEBOOK LIVE: AENC member Brandi Gerew, will walk the trade show floor visiting exhibitors bringing a social media aspect to the show. This virtual walk through the trade show will also be shared on our LinkedIn page post event.

- AENC Tradition! During the holiday season, it is such a special way to wrap up your year with your AENC family!
AENC 2023 Exhibitor Terms and Agreement you agree to by purchasing a booth.
MAKE SURE YOU ARE LOGGED IN.
If you can't see options for aisle or corner booths at the link above, please contact Madi or Julie.
SPAM WARNING: Trade Shows are notoriously targets for phishing and other spam emails promoting ways to purchase the attendee list or a hotel room. AENC does not charge for (or sell) our attendee list. We will send the full list of attendees out to Exhibitors in the days leading up to the event (when the list actually exists). Also, the only room block we currently have is the Sheraton Raleigh Hotel at the link above. If you see another email advertising hotel rooms that is not from AENC.